About Us
RULERS, SCALES, GAUGES AND MEASURING TOOLS - made in U.S.A.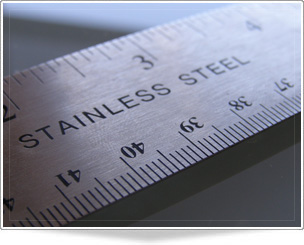 GEI International, Inc. (formerly known as Gaebel Enterprises, Inc.) was founded in 1961 with the sole purpose of manufacturing high quality stainless steel rulers, measuring scales, gauges and measuring tools for the Printing and Graphic Arts industries.
A propriety manufacturing process was researched and developed for the manufacture of these products. Through the years this process has been refined and currently utilizes a combination of precision photo-engraving and etching to produce consistent high quality and accurate measuring devices.
Our original product line of rulers and scales for the printing industries has been expanded over the years. Today GEI offers over 400 different models of stock rulers for all commercial and industrial applications. In 1990 a comprehensive line of Promotional Imprinted stainless steel rulers and gauges was introduced to address the need of our customers for a high quality 'giveaway' at a reasonable price to assist them in their marketing, sales and training programs.
Since our inception in 1961, customers have requested items we do not offer as stock items. To satisfy customer requests, we have further refined our manufacturing process and are able to custom manufacture rulers, scales, gauges and measuring tools in small and large quantities at reasonable prices. Currently we manufacture a wide range of custom items including medical and dental rulers, machine tool scales, depth gauges, wet film gauges, tool joint identifiers, agricultural scales & rulers, conversion scales, sheet counters and many more. Standard GEI products or custom manufactured products may also be 'private labeled'.
All stainless steel rulers, gauges and scales offered by GEI are manufactured from raw stainless steel in our modern facility in East Syracuse, New York, U.S.A. Find out more about our manufacturing process.
HEAVY DUTY INDUSTRIAL SCRAPERS AND 'SPUD BARS' - made in U.S.A.
In the 1970's GEI was offered the opportunity to manufacture a line of Heavy Duty Industrial Scrapers and 'Spud Bars' by a local company. These scrapers were formerly known as the 'Eiermann' scrapers and had an outstanding reputation for their high quality and performance in demanding applications. Today we continue to manufacture these items to the same high quality standards.
MAGNIFIERS & GRAPHIC ART TOOLS
Shortly after our inception in 1961 the majority of our customers were Printing and Graphics Arts companies. These customers also wanted to be able to purchase magnifiers and other graphic art tools from us. Due to the demand for these products we offer a variety of magnifiers, optical products and layout tools which are suitable for use in many applications.